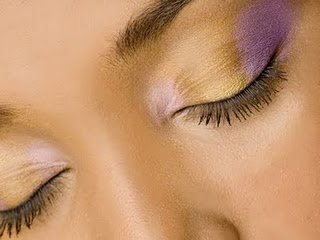 The history of cosmetics has a span of over 6000 years of human history. It is used in just about every society on earth and although it has been used during this amount of time, it is accurate to state that most cosmetics were designed solely for those individuals who possessed fair skin complexion. Based on this issue, many African Americans and Hispanics had difficulty finding the proper make up that could blend into their own skin tones.
In today's society there are many companies that use a number of celebrity spokespersons to represent various skin tones that could represent individuals in society who find difficult finding that right tone to match their complexion. Companies such as CoverGirl, L'Oreal, Maybelline  and more have began to focus on these different skin tones. Celebrities include Queen Latifah, Beyonce Knowles, Drew Barrymore, Tyra Banks, Faith Hill and many more.
One of the difficulties dealing with cosmetics that ethnic groups have is finding the right shade of eye shadow that works with their own skin tones. Not only is it difficult to find that right shade to match your skin tone, but also one to match the color of your eyes. In today's society, depending on the individual's styles, people can go for a subtle look, a bold look, or one in between. Now because various ethnicities come in different shades and colors its important to find that eye shadow that makes your eyes POP!
Here's a look at COVERGIRL's
"Exact Eyelights"
product, which offers the customer with natural shades. In addition to this product, you can visit COVERGIRL's website and take a test to help you find the right color/shade for you based on your style, skin tone, and eye color.
Another product that would be a great choice is the new "Bare Naturale" eye shadow brand offered by L'Oreal Paris. This eye shadow not only focuses on shade but it also targets those with sensitive eyes caused by contact lenses.
Some of the shades include: Rose, Nude, Spice, Olive, Chestnut and numerous others.
You can also find tutorials on how to apply the proper amount around your eyes and the correct color that will make your eyes look fierce!
For more of an inexpensive reach, NYC Cosmetics is a great buy! It can found in various drugstores at an affordable price. This NYC "Color Wheel" can be found at CVS or Duane Reade for only $3.99!
Also at Victoria's Secret's, there are many options to Eye shadows that are creative and inexpensive. Most range from $7-$12 and can be found in the stores or are available online. Check it out.